Martha Chamera
Warehouse Administration Clerk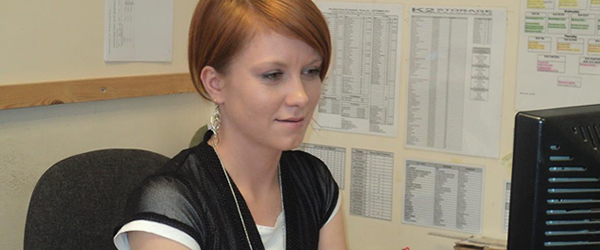 Number of years in the warehouse and storage industry?
4 years
How did you start your career within the warehouse industry?
I was introduced to K2 Storage Solutions through a recruitment agency initially. After my trial period I was asked to stay on and have been here ever since.
What does your daily role entail?
All aspects of Goods In area and also additional general warehouse administration support to K2.
Which areas of your role do you enjoy the most?
I enjoy every task of my job, but mainly liaising with customers.
What is your toughest challenge?
New storage customers always present a new challenge, but after a while it becomes natural.
Which member of the team is the biggest character and why?
Adam –When I'm having a tough day he will always put the smile on my face.
Which areas of your role do you feel have changed the most due to technology in the warehouse & logistics industry?
Since I've started the warehouse computer systems are being constantly updated which has enabled us to work more efficiently within the warehouse.
Which areas of the industry do you feel will become more important to prospective customers in the future?
Great service, professional advice and dealing with a trusted/responsible warehouse and storage team who cares about their customers and their stock requirements.
Which areas of the business have you seen the most growth in?
I would have to say, definitely the warehouse and storage part of our company. K2 Storage Solutions has grown really fast and now K2 is one of the biggest and most recognised storage companies in the North West.
What one thing would you change about the warehouse industry?
I don't think there is anything that could be changed at this time. We just need to change and adapt with the times and provide the best possible service.
What advice would you offer to someone thinking about entering into a career in logistics administration?
I would recommend starting their career with distribution and warehousing. However flexibility, good organization and being able to multi tasks are essential in the storage industry.
What do you do in your spare time to help you relax?
When the sun is shining outside, I love travelling….
When it's raining – reading good books.
Who is your biggest hero?
My father was my hero.