Adam Rothwell
Office Supervisor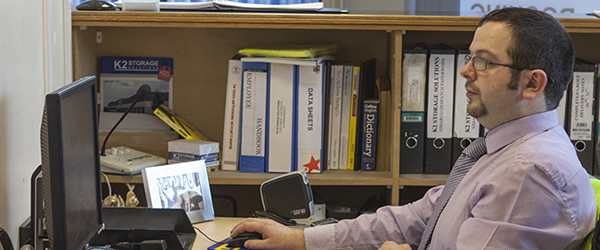 Number of years in the warehouse and storage industry?
I have worked within the Suttons Group for 12 years (8 years at K2 Storage Solutions)

How did you start your career within the warehouse industry?
I started within the Cash & Carry office at JBI, moving over to K2 Storage Solutions, 6 months after the warehouse opened.

What does your daily role entail?
Liaising with warehouse customers' regarding their despatch requirements, dealing with distribution drivers arriving and departing. All in all, providing warehouse administration support to K2.

Which areas of your role do you enjoy the most?
Liaising with transport + storage companies and generally the despatch aspect of the business.

What is your toughest challenge?
Liaising with customers on an ongoing basis as they all have different ways of working.

Which member of the team is the biggest character and why?
Dorothy she knows everything!

Which areas of your role do you feel have changed the most due to technology in the warehouse & logistics industry?
Maintaining accurate stock levels. Having a modern warehouse storage computerised system has been integral to the groups' growth. 'Back in the day' many storage companies without a computerised system had no clear idea of what stocks they had in and this led to over stocking and overbuying issues.

Which areas of the industry do you feel will become more important to prospective customers in the future?
Being able to provide a great warehouse storage service at the right price.

Which areas of the business have you seen the most growth in?
In my opinion, looking between group and storage, it would definitely have to be the storage side of our business. It has gone from strength to strength, mainly due to K2 being able to diversify very quickly. Not every customer wants point A, B & C. Each customer has different demands and needs. K2 Storage Solutions are able to react to this and offer a professional and friendly service to suit all our warehouse customer's needs.

What one thing would you change about the warehouse industry?
I would like all our customers to work the same way but I know that's impossible.
What advice would you offer to someone thinking about entering into a career in logistics administration?
Go for it, the person has to be able to handle pressure though. We can go from nothing to everything in the space of 5 minutes. They would have to be able to plan, prepare and execute multiple ongoing tasks to achieve our customers' demands.

What do you do in your spare time to help you relax?
Watching films, attending film conventions and going to shows.

Who is your biggest hero?
I don't really have one.