Thomas Kershaw
Warehouse Administration Clerk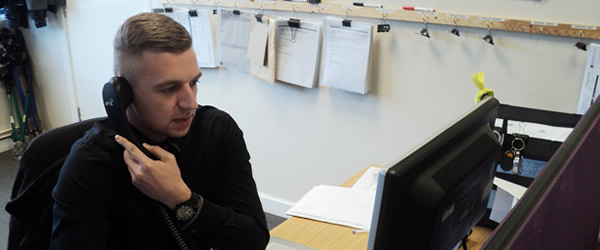 Number of years in the warehouse and storage industry?
Almost 2
How did you start your career within the warehouse industry?
I applied for an internal vacancy that became available whilst I was working for another part of the group of companies.

What does your daily role entail?
My main role in the office is looking after all of the group despatch, consisting of a wide range of import and export sectors and retail companies.

Which areas of your role do you enjoy the most?
I enjoy the challenges that seem to occur most days and the fulfilment of getting the correct result, when it eventually happens.

What is your toughest challenge?
The toughest challenge is getting everything right every time.

Which member of the team is the biggest character and why?
Myself!

Which areas of your role do you feel have changed the most due to technology in the warehouse & logistics industry?
The most useful part of technology that I have come across is the online transport booking systems. With the amount of vehicles we have being despatched on a daily basis from K2 storage. The online warehouse booking system has come into its own. It is so quick and easy to book transport using the online systems rather than relying on the old ways of the warehouse and logistics industry.

Which areas of the industry do you feel will become more important to prospective customers in the future?
The way K2 Storage moves with the times, and outshines our competitors.

Which areas of the business have you seen the most growth in?
Volumes of stock entering the warehouse.

What one thing would you change about the warehouse industry?
I cannot think what I would change as it all works well here.

What advice would you offer to someone thinking about entering into a career in logistics administration?
Work hard, play hard and enjoy.

What do you do in your spare time to help you relax?
I play in a brass band in my local town which I have done for almost 17 years. I find this quite relaxing.

Who is your biggest hero?
I don't think that I have a hero if I am to be honest. I look up to a lot of people for a whole variety of things but I don't think that I could pinpoint just one person.