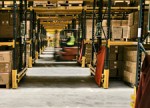 'Online retail sector…19% annual growth'
DW: – We have found a demand for online retailers who still want control over their pick & pack operations and the day to day contact with their customer base. Typically, what they expect from us is to take in their large volume deliveries and store their bulk backing stock.
They then request smaller more manageable quantities to be drip-fed into their small units for picking & packing. This works great for K2 because 'volume' is what K2 do best allowing our customers to do what they do best!
As our reputation has grown more and more enquiries have been forthcoming. An example of this is the American supplier to one of our customers who visited K2 Storage Solutions son a recent visit to the UK and as a result are currently in advanced negotiations with us for them to utilise K2 Storage Solutions as their main European business storage hub!
The growth of K2 Storage Solutions since it was founded at the beginning of the global recession back in 2007 has been meteoric. Expansion due to good working practices, highly trained and motivated staff in addition to embracing modern day social media techniques have left them potentially outgrowing their 17,000 pallet location facility and searching for additional sites to further develop the K2 Storage Solutions brand.
For further business storage information please contact us directly or email info@k2storagesolutions.co.uk
thank you.
David Wilson (Group Property Manager – K2 Storage Solutions) 15.07.11