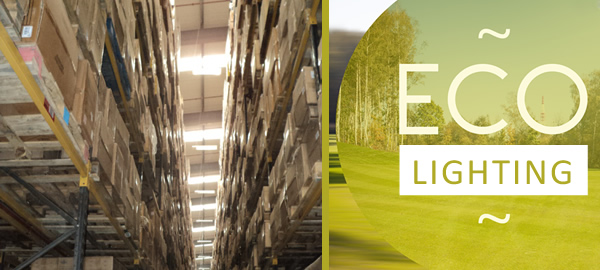 K2 storage solutions has recently invested in energy efficient lighting, helping the planet and saving money at the same time!
The cost of lighting a 110,000 sq ft warehousing storage facility such as K2 is naturally a big drain on resources so projected savings of up to 75% per annum was a very tempting proposition. As with any 'state of the art', modern warehousing storage facility, energy efficiency is very important to help reduce our overall carbon footprint.
The decision to finance the replacing of existing 400W fittings with EWL 454 fittings was made easier with a payback timescale of just 20 months!
The new fittings produce a crisp, clear light in a 'very narrow aisle' (VNA) environment from a height of 13 metres, making working conditions better for reading, writing and scanning, thus helping improve speed and efficiency within our business storage warehouse facility here in Padiham, nr Burnley.
A logistical operation such as K2 Storage Solutions has many different working aisles. Fitting photocell / presence detection sensors means that we only light up the storage aisles that are occupied – a simple yet logical theory.
Greatly reducing CO2 emissions and subsequently our carbon footprint is a good enough reason to install energy efficient lighting in our North West warehouse facility, however in these harsh economic times when company accountants are looking to make savings across the board, it becomes a rather obvious decision to make.
David Wilson (Group Property Manager – K2 Storage Solutions) 26.09.11