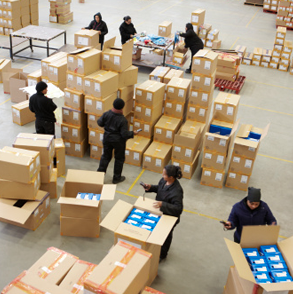 Being comfortable in your workplace is critical for both job performance and productivity. This particularly applies to the warehouse and logistics industry.
All companies invest heavily in staff and naturally have a duty of care for the wellbeing of their workers.
We spend approximately a third of our lives in a work situation so any job function, especially involving repetitive works, requires analysing to the finest detail, to achieve comfort and maximise output.
Labour is, and always has been, a major cost for any logistical operation. This has been magnified in recent years with the online, internet explosion.
In the global area of supply chain and logistics, almost all warehouse functions have been tried and tested before, by other companies, somewhere in the world. Suitable logistics equipment, therefore, is available out there in the market place, so find it! Searching the internet for such equipment has made solving the issue far easier than in the past.
Gauging the quantity of each piece of equipment is crucial as it impacts both in the financial outlay for the equipment if you over estimate the requirement and the loss of productivity if you under estimate.
We, at K2 Storage Solutions, have developed our fleet of logistical equipment gradually over the past 10 years to cope with increased demand and added pressures of work. Our most recent addition has been adding a third Toyota Vector C15 man up truck to our fleet. Other equipment such as counterbalance trucks, reach trucks and a number of powered pallet trucks have been added to reflect our storage operation's expansion.
In the modern world, getting the labour and equipment decisions right goes a long way to achieving success in the e-commerce market. Failing to do so creates customer dissatisfaction, negative feedback and ultimately a downward spiral.