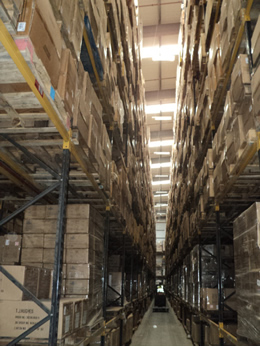 Business Storage for Seasonal Products

It's every company's worst nightmare to have bulging storage warehouses as we enter the month of August – knowing that before long, all the new seasons autumn/winter stock will be arriving! Record rainfall throughout the summer months has resulted in large volumes of unsold summer stock that requires warehouse storage throughout the winter months. That's when business storage companies such as K2 Storage Solutions are invaluable for manufacturers and importers alike.
Typical advantages of utilising K2 storage Solutions for storing seasonal stock include:
• Quick response
• No long term storage contract or commitment
• Extremely competitive and cost effective warehouse storage tariffs
• Deliver, view and recall warehouse stock via your own PC
• Stock audit reports available on a weekly basis
Renting an outside storage warehouse was the obvious option many years ago but presents not only financial, but logistical issues.
Does any company want to burden themselves with a fixed lease term paying rent, rates, utility bills etc when the premises are half empty? Your costs are still the same if you're storing 1 pallet or 1000 pallets!
Does any company want their warehouse staff continually trailing to another site to collect samples, accept deliveries carry out stocktakes etc?
The emergence of business storage companies has changed the face of logistics over the past decade and K2 Storage Solutions are market leaders in their field.
David Wilson – K2 Storage Solutions (30th July 2012)