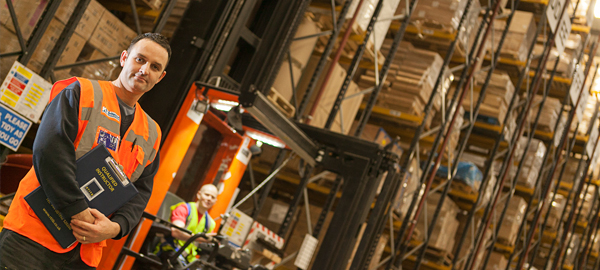 Tony Thompson joined the K2 Storage Solutions team back in its infancy, almost 10 years ago. His positive attitude and infectious enthusiasm from the outset, highlighted the fact that he had far more to offer the K2 warehouse operation than just fulfilling the daily role of fork lift truck driver.
As the company grew, it became apparent that it would be both hugely beneficial and cost effective to develop an in house warehouse trainer for the expanding fleet of TOYOTA high rise, counterbalance, reach and powered fork lift trucks.
Tony was the obvious choice…
To find out more about Tony and his progression here at K2 please read on…
1. When did you start at K2 Storage Solutions
After a successful interview, I joined the company in September 2005.
2. In what capacity were you first employed
I was first employed as a V.N.A. warehouse fork lift truck operator.
3. How did you develop into your role as in-house trainer
No matter what I do, I always look for ways to improve my position and learn new skills. I put myself forward and was successfully selected for the role of in-house trainer within the warehouse. I have a large array of skills and experience relevant to the logistics role and feel that I can meet the needs of the growing storage company, and can tailor my training to meet the needs of the individuals that I train.
4. What qualifications have you now attained
R.T.I.T.B. Registering Fork Lift Truck Instruction.
I.O.S.H Institute of Safety and Health Certificate.
N.V.Q. In Warehouse and Distribution Operations.
N.V.Q. In Fork Lift Truck Operations.
Certificate in First Aid and Trauma Management.
Racking Safety Awareness Certificate.
Mobile Yard Ramp Certificate.
Shunting and Manoeuvring Certificate.
Hold licences for: ……………. Pallet truck, low level ………….. Picker Truck, Counterbalance Truck, Reach Truck and VNA Lift Trucks.
5. What advantages do you think that having an in-house trainer brings to K2
Being able to work alongside of people that I train, and offer support and guidance when needed is a big advantage for K2 Storage Solutions. My friendly and approachable manner encourages people to approach me with their issues, which I can act on and give advice, which in turn help to keep accidents and any incidents occurrences to a minimum, and promote a safer driving environment for K2 Storage solutions.