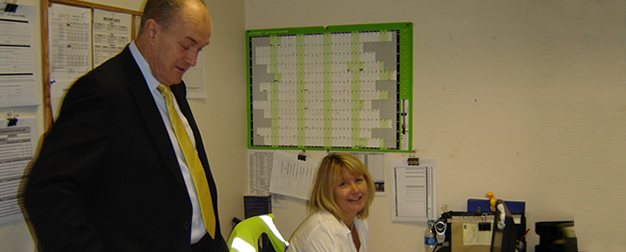 Mr. Gordon Birtwistle, Member of Parliament for Burnley and Padiham, visited K2 Storage Solutions on Friday September 23rd 2011.
The Liberal Democrat MP was on a series of visits to successful local businesses, discovering first hand what his constituency has to offer in the commercial world.
K2 has invested heavily in its 'state of the art' business storage warehousing facilities in Padiham, nr Burnley. In turn this investment has helped K2 Storage Solutions significantly grow its customer base in recent years with its leading North West business storage and warehousing facilities.
Due to his engineering background, he was particularly interested in the highly technical wire guided Toyota fork lift trucks that provide the logistical solutions for a facility the size and scope of K2's business storage facilities.
We were delighted that he took time out of his busy schedule to visit us at our warehouse facility and hear our views on both a local and national level.
David Wilson (Group Property Manager – K2 Storage Solutions) 05.10.11